Minor Baseball alive and well as NDBA opens 2012 diamond campaign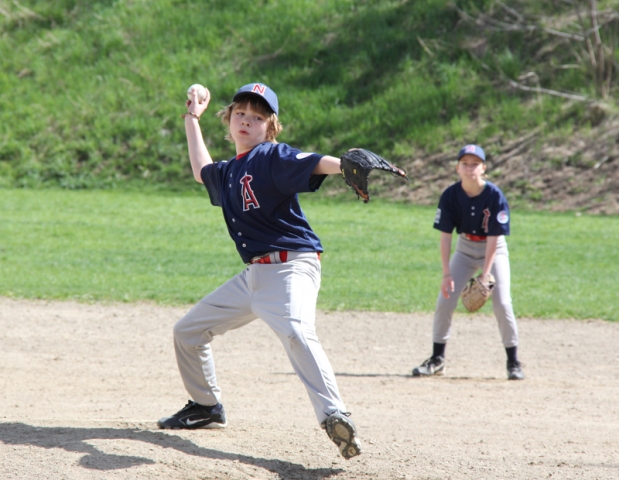 Looking at the beaming smile on the face of president Larry Martel, it's safe to say minor baseball is alive and well in Nelson.
Martel all smiling from ear to ear as Nelson and District Minor Baseball held opening day Saturday at Queen Elizabeth Park with the Nelson Angeles defeating Castlegar in Little League Major action.
"We've got 98 kids and 15 teams, which is where we were last year," Martel said when asked about the state of minor baseball in Nelson.
Nelson teams play in the West Kootenay Baseball League — the players 13-and-over in the B.C. Babe Ruth and the younger players in B.C. Little League.
Opening game saw Nelson Angels capture the victory against Castlegar.
Justin Lasichuk pitched a few innings to get the win for Nelson.
Trail Dodgers hosted the Nelson Diamondbacks in game two of the day at Queen Elizabeth.
The West Kootenay Minor Baseball season runs until the middle of June when playoffs close out the house league campaigns.
The West Kootenay teams — Grand Forks, Fruitvale, Castlegar, Trail and Nelson — then form all-star squads to participate in provincial play.
The Little League major players have a short distance to travel as Trail is host site for the B.C. Little League Championships in July.
The tournament is held at Andy Bilesky Park in Trail.
EXTRA INNINGS: President Larry Martel said renovations to Lions Park baseball diamond has commenced. Nelson and District Minor Baseball, given the green light by the city, is doing a major overhaul to the Uphill Park. . . . From now until mid-June Queen Elizabeth Park will be a beehive of activity with baseball games played on most days.