Johnstone Road residents angered over messy hikers to Pulpit Rock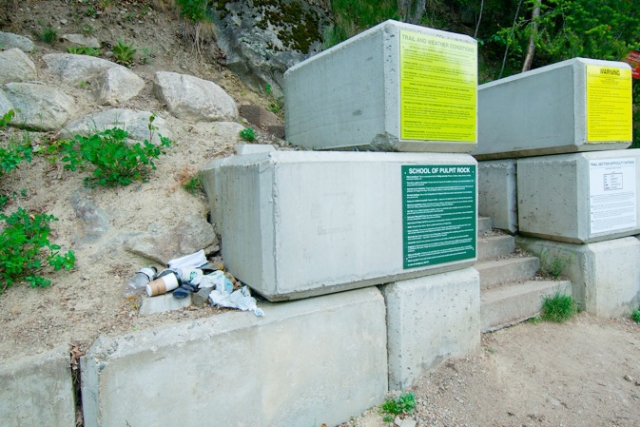 Residents of Johnstone Road would hikers to Pulpit Rock to adopt the "pack it in, pack it out" policy in respect to garbage that has been accumulating on the trail.
"Hikers are typically people who appreciate and respect the outdoors, so we are perplexed that other outdoor enthusiasts feel that they can just leave their garbage at the foot of the trail, expecting it to be looked after," a Johnstone Road resident told The Nelson Daily.
"Regular hikers and residents are getting more dismayed as this pile of coffee containers and plastic bags filled with dog waste continues to grow with each passing day."
The trail to Pulpit Rock dates back to the 1920s.
In the 1980s, the Chamber of Commerce organized the construction of a gentler, newer route after the old trail became difficult to find.
In 2008, private property owners began to express concerns with the number of people using the trail, which trespassed on their property.
This resulted in a temporary closure of the trail and the creation of the Friends of Pulpit Rock Society.
The Society, in partnership with long-time RDCK director Al Dawson, organized the purchase of permanent legal access to the trail, upgrades and construction of the parking area.
The trail entrance to Pulpit rock is located across the Big Orange Bridge and 2.3 kilometers, southwest on Johnstone Road.
A short trek the extremely popular trail, which on a good day can see hundreds of people enjoy, gives hikers a spectacular view of Nelson.
"Visitors to Johnstone Road should realize that it is in a rural community and does not have garbage pick up," said the Johnstone Road spokesperson.
"Regardless, it is disturbing to see that some people do not take responsibility for their garbage and dog waste, so we are requesting that you follow the hiker's rule of taking what you bring,"