Bombers break up the Storm, blast Kimberley 58-10 to defend Kootenay Zone Rugby title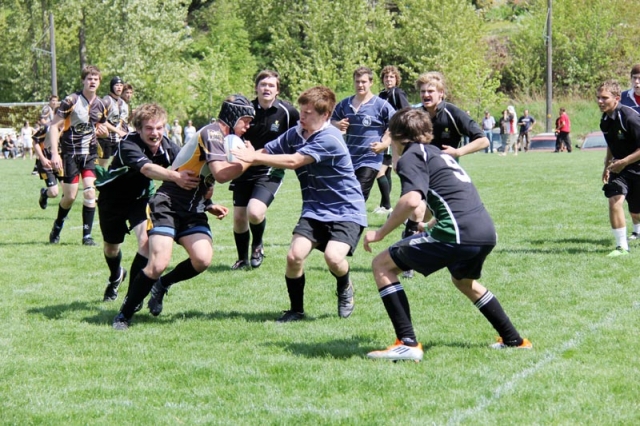 The L.V. Rogers Bombers once again make it look easy in defending its Kootenay High School Rugby Zone title with a convincing 58-10 victory over the Selkirk Storm from Kimberley Wednesday afternoon at the Lakeside Pitch.
However, the joy of victory quickly turned sour as the Bombers lost a few more key players from an already depleted lineup.
"It was a good game for us but we suffered another ankle injury and one of our players (Jake Lock) may have broken his hand," said Bomber coach Michael Joyce.
The Bombers probably lost key player John Katountas for the season with an ankle injury while Simon Yole also did not play in the zone final.
Jake Lock was off to the hospital to get x-rays on his injury hand.
The Bombers, undefeated against Kootenay opposition this season, rode the strong play of Lock and Louis Locksnik to a 27-10 halftime lead.
In the second half the Bombers played better on the defensive side of the ball as the hosts piled on more points.
Lock finished the contest with three tries while Louis Locksnik added two major scores.
The Bombers now advance to the B.C. Rugby Championships May 30 to June 2.
First up for the seventh-ranked Bombers — the highest ranking for a rugby team from LVR — in the recent AA poll, is the tenth-ranked team.
The game, against a still to be determined opponent, is being played Saturday, May 26 in Kelowna.
LVR then travels to Abbotsford for the remainder of the provincial tournament in Abbotsford.
"It's disheartening for sure," Joyce said when asked about all the injuries on the eve of the provincials.
"You definitely would like to go to provincials with the team that got you there."
"But we practice (Thursday) so we'll get out on the pitch to start to prepare for provincials," he added.