Biz Buzz — Howie's Electric Scooters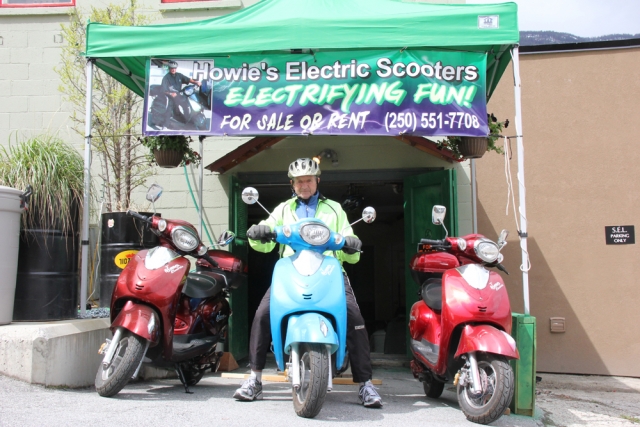 He played hockey for the World Champion Trail Smoke Eaters and Nelson Senior Maple Leafs.
He's sold furniture and real estate, coached hockey and help teach skiers at Whitewater Ski Hill.
Now Howie Hornby has the perfect way to see the City of Nelson, up close and in person with his electric scooters.
The Nelson Daily Editor Bruce Fuhr had a chance to talk with the owner/operator before the start of the hectic tourist season.
During his hockey career Howie Hornby led by example.
Whether it was speeding down the right wing or putting a deke on the defenceman with some fancy stick handling, Hornby, through his many years of junior, senior and international hockey, had a way of rising above the talent on the ice to score a key goal or make a key play.
He continued those leadership qualities during his 22 years of minor hockey coaching, teaching skiing at Whitewater and skating to the tiny tots at the NDCC Arena.
So should be a surprise to no one that now the former member of the World Champion Trail Smoke Eater hockey club is now helping tourists and locals with the dos and don'ts of riding scooters at Howie's Electric Scooters.
"It's a perfect way to cruise around town," Hornby said from his location across from the Community First Health Co-op on Lake Street.
Hornby got the idea while visiting his son David during a visit to China.
"I was riding a scooter there and thought this would be great to bring them to Nelson," said the former owner/operator of the Whitewater Ski School.
"That was three years ago and since then I've had nothing but fun."
Howie's Electric Scooters is open seven-days-a-week during the warmer months of the year at 502 Lake Street next to Tu-Dor Lock and Safe.
Hours are 8 a.m. to 6 p.m.
Renters do not need a driver's license but must put down a deposit and sign a waiver.
Cycling helmets are provided.
Cost $25 per hour.
Scooters are also for sale for between $1,800 and $2,400 depending on the model.
"This is the most fun I've had in a long time riding these scooters," Hornby said, a former realtor with Coldwell Banker, owner/operator of Sterling Home Furniture and car salesman with Nelson Chrysler.
"And I enjoy teaching people who are a little unsure about riding," he adds.
Once again, leading by example is one of the traits of Howie Hornby who never met a challenge he didn't overcome.