Bombers riding high after capturing Rockets Invitational in Summerland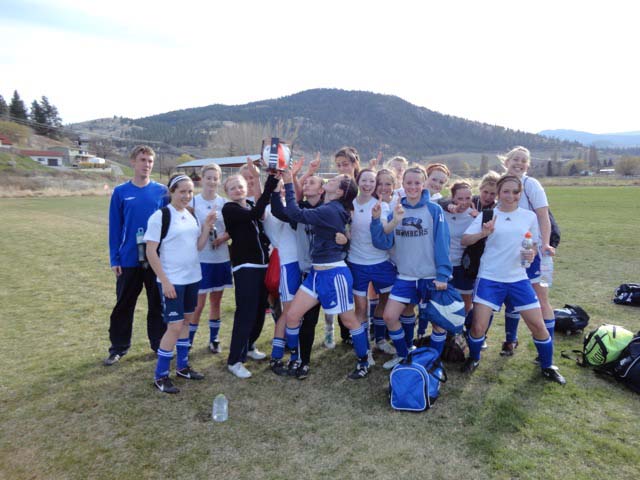 There's no stopping the L.V. Rogers Bombers Girl's Soccer team.
The Bombers continue to get better with age after capturing the top prize at the Summerland Rockets Senior Girl's High School Soccer Tournament Saturday in the South Okanagan City.
LVR posted wins over Columneetza of Williams Lake, Queen Elizabeth of Surrey before dropping a 1-0 shootout decision to Prince Margaret of Penticton.
Morag Paterson led the scoring charge with a three-spot against Surrey. Paige Mansveld scored in every game while rookies Hailee Gerun and Keegan Paterson added singles.
The Bombers opened the season with wins over Stanley Humphries Rockers (1-0) and J. Lloyd Crowe Hawks (4-0).
LVR returns to action this weekend when the club travels to Kelowna for the Kelowna Secondary Owls tournament.
The Bombers host Stanley Humphries on Wednesday (May 2) at the Lakeside Pitch.
J. Lloyd Crowe Hawks are in Nelson at Lakeside to face the Bombers on May 9. Both games kick off at 4 p.m.
Some LVR sports continue to thrive despite BCTF job action
Bomber spring teams are moving right along in spite of the recent decision by the B.C. Teachers Federation to withhold volunteer time in the school.
The Bombers soccer squad had a community coach so the team will play out the season.
Other sports marching on at LVR are rugby and baseball.
Spring field hockey and track and field will not be offered at LVR.
sports@thenelsondaily.com