Two poets read at the Nelson Library — and in Council chambers, too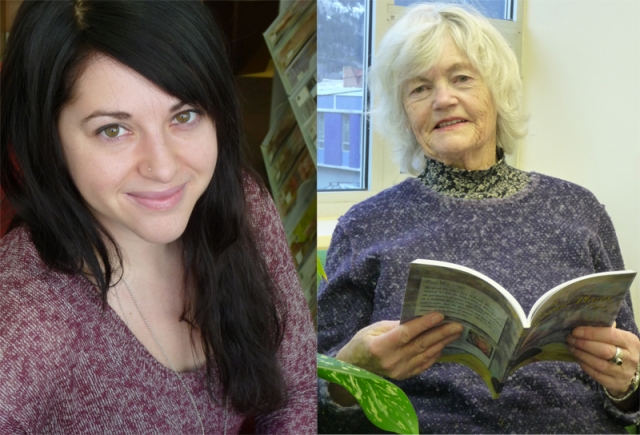 Nelson celebrates National Poetry Month with two special events in early April.
One is at the Nelson Public Library on Thursday, April 5.
The other?
Let's try City Council chambers.
The City of Regina has challenged the City of Nelson — and communities across Canada — to embrace National Poetry Month by inviting a poet to read at a regular Council meeting.
Nelson has taken up the gauntlet with a flourish: not just one, but two notable Nelson poets will read to rapt City Councillors at the Monday, April 2 Council Meeting.
Those poets are Margaret Hornby and Elena Banfield.
"We're excited to bring some poetic energy into Council chambers," said city councillor and Cultural Development Commission liaison Donna Macdonald.
"And we're delighted to have both a young and an older writer share their work with us."
In addition, the public is invited to the Nelson Library on Thursday, April 5 at 7:30 pm, when Hornby launches a new book of poetry, Love in Exotic Places,and Banfield reads from recent works.
Hornby's new collection, Love in Exotic Places,is published by Balfour's PB&J Press. According to Canada's poet laureate Fred Wah, Hornby's book "reminds us that the imagination is grounded in the particulars of place," with poems that "offer sudden surprises and insights into the quotidian and into the awareness that home, no matter where we are, is always right in front of us."
Hornby, an avid traveler, has lived over 50 years in the Kootenays.
She has produced several radio plays, and her work has appeared in literary journals. Her debut poetry collection When the Snow Leaves Elephant Mountainwas published by Chameleon Fire Press in 2003.
Newer on the poetry scene is Elena Banfield, who spent her formative years in Nelson before turning to post-secondary studies in classical music and international relations, followed by hands-on barista training where she perfected leaf designs on latte foam.
Poetry followed, and Banfield describes her generation's attempts to negotiate meaning in a rapidly changing reality as a recurrent poetical theme.
Other themes include the power of place, the inheritance of memory, and the navigation of the space between youth and adulthood.
Banfield has been a popular voice at local poetry slams and in the Elephant Mountain Spring Review, an online literary journal.
According to Regina's Mayor Pat Fiacco, the Mayor's Poetry City Challenge "will be a world-first in recognizing the enormous contribution of our poets, other writers, and publishers to the cultural history and identity of our communities and our nation."
The challenge has been enthusiastically embraced by City Council, and the public is welcome to come and hear Hornby and Banfield read at the council meeting. Nelson residents can also help take up the gauntlet by showing record attendance at the April 5th Library event.