Team Kootenay fifth in curling; cross country skiers finish in middle of the pack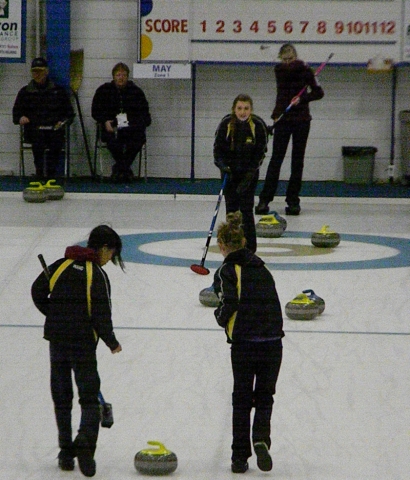 A young Team Kootenay cooked with the big dogs and finished in fifth-place in girl's curling at the B.C. Winter Games Sunday in Vernon.
The team of skip Lauren Walgren, third Jade May, fifth Taylor Jameson, lead Noelle Wang and second Leslie George placed third in pool play with a 1-2 record.
Team Kootenay lost to Team Hanni from the Fraser Valley and current B.C. and Canadian Juvenile champ, Brown rink from the Okanagan before defeating a rink from North Vancouver.
"The first day the girls were not used to how fast the ice was compared to the Nelson ice," said a team spokeperson.
The Nelson rink was one of the youngest rinks (aged 14) at the curling event all of the other girls teams they played were a 16 years old.
"This was a great team learning experience and the Nelson girls also received a couple of invitations to go to the Okanagan and play a couple of the juvenile teams on Vernon and Kamloops."
Cross country skiers finish in middle of the pack
Team Kootenay sent seven athletes and two coaches to the B.C. Games.
Results for a pair of Nelson skiers  included Galen Boulanger in juvenile boys sprint 400 meters finishing eighth and 12th in the individual start classic while Stuart Milde was 14th in juvenile boys sprint 400 meters and 15th in juvenile boys individual start classic.
Boulanger qualified for the Kootenay Zone 1 relay team and they placed eighth.