Old Man Winter keeps hanging around in West Kootenay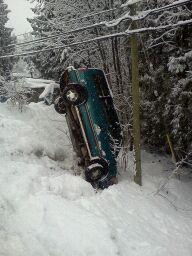 For the second time in two days the West Kootenay was hit with another spring snow storm.
Thursday morning residents woke up to another dusting of snow that made driving more challenging than a normal spring day.
The only people happy with the onslaught of winter in March are the skiers at Whitewater Ski Resort.
The local mountain has seen a dumping of 238 cm in March — 53 in the past three days.
The 14 day trend has the weather not getting much better with sunny spots mixed in with more rain and snow, at the higher elevations.
The Canadian Avalanche Centre is issuing a warning for Kootenay/Boundary backcountry that could be upgraded if the sun comes out for any length of time, spiking avalanche activity.
For more backcountry information go to http://www.avalanche.ca/