Minor hockey teams push top teams in province at B.C. Hockey Tournaments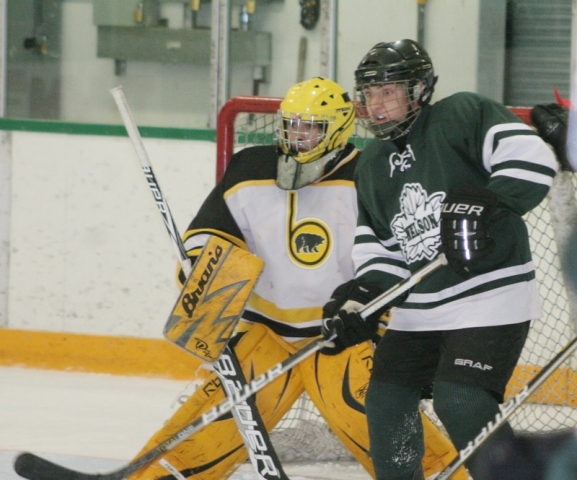 Despite pulling off a 6-6 tie against one of the four semi finalists, the Kaslo/Nelson Reps finished out of playoffs at the B.C. Hockey Tier III Midget Championships this past week in Osoyoos.
The Reps were one of four local teams in the thick of Minor Hockey Championship Tournaments held during the Public School Spring Break Holiday.
The others were the West Kootenay Wildcats at the Bantam Female tournament on Vancouver Island and Peewee Leafs at the Tier III Rep Championships in Quesnel.
Kaslo/Nelson Midgets, finishing with a 1-3-1 record, started the tourney off on the right foot by edging Whitehorse 3-2.
However, the results quickly went south for Kaslo/Nelson, narrowly losing to Abbotsford 6-5, host Quesnel 6-2 before drawing with Kerry Park.
Kerry Park, winners of the bronze medal, led 4-2 after 40 minutes and 6-4 late in the game before Kaslo/Nelson staged a late-period rally.
Ryan Tate and Sam Weber pulled Kaslo/Nelson even with singles late in the game.
John Katountas and Matt McDonald each scored twice for Kaslo/Nelson.
Tyler Podgorenko and Tate each finished the game with two points.
Kelowna nipped Prince Rupert 4-1 in the tournament final.
Great learning experience for Peewee Leafs
The Nelson Peewee Leafs enjoyed the experience but not the results at the B.C. Hockey Tier III Peewee Rep Championships Tuesday in Quesnel.
Nelson finished the 0-3-1 earning its only point in a 3-3 draw against Creston.
The West Kootenay zone winners lost 4-2 to Kelowna and 4-1 to Dawson Creek.
In its final game, the Peewee Leafs squandered a two-goal lead as Whitehorse rallied to post a 5-4 victory.
Whistler edged Vanderhoof 1-0 to win the tourney's top prize.
West Kootenay Wildcats play top teams tough at provincials
Nelsonites Jenna Wheeldon and Emma Hare each score twice to lift the West Kootenay Wildcats its only victory, 5-4 over South Island Royals, at the B.C. Hockey Female Bantam Championships.
West Kootenay, coached by Simon Wheeldon, finished with record of 1-2.
The Cats opened with a pair of losses to North Shore Female 3-0 and Prince George 2-1.
Prince George defeated Terrace 4-1 in to claim the gold medal.