Hawks hold off late Bomber charge to capture West Kootenay Junior Boy's Hoop title Saturday at the Hangar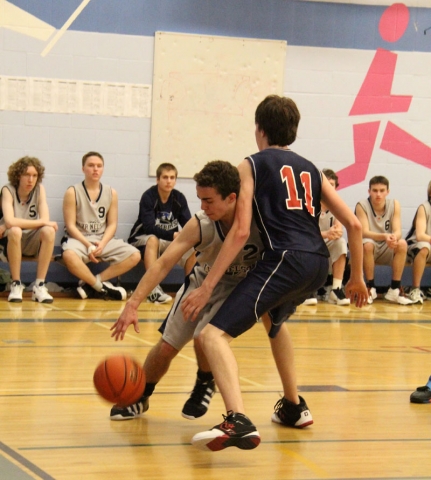 The last time the two teams met, J. Lloyd Crowe escaped with a narrow win over the Bombers.
The game before, LVR edged Crowe by a few points.
However, Saturday at the Hangar in Nelson it was the J. Lloyd Crowe Hawks with the last laugh.
The Hawks jumped to a 16-4 first quarter lead and never looked back, dumping the Bombers 51-39 in the final of the West Kootenay High School Junior Boy's Basketball Championships.
The Hawks increased its lead to 28-9 at the half, handcuffing the Bomber offence and holding the top seeded team to two field goals in 20 minutes.
LVR out scored Crowe 30-21 in the second half but the margin was too great.
Jake and Tyrus (last names not on score sheet) led the Hawks with 14 and 11 points, respectively.
Leading LVR was Grayson Arabia with 15 points. Ethan Perkins and Tobin Eberle had eight and nine points, respectively.
The Bombers defeated Stanley Humphries Rockers to reach the final while the Hawks got past Rossland Royals.
The Salmo Falcons and Mount Sentinel Wildcats were the other two teams entered in the tournament.
The West Kootenay championships conclude the high school season.
sports@thenelsondaily.com