Ed Natyshak faces another challenge as Nelson's Man in Motion medal bearer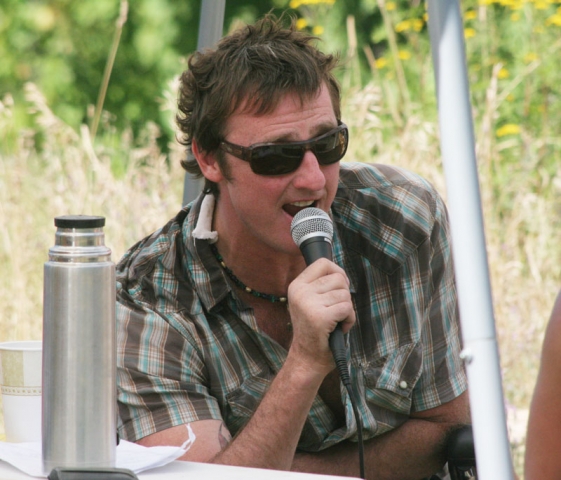 Ed Natyshak has never met a challenge he couldn't overcome.
Which is why the quadriplegic fitness guru was quick to accept being named Nelson's honourable medal bearer for Rick Hansen's Man in Motion tour this April.
Natyshak, a unanimous selection by the Nelson Sports Council, accepted the honour during a ceremony Thursday at the NDCC Arena.
Twenty-five years Rick Hansen took Man In Motion tour around the world, commencing its historic cross-Canada journey back to British Columbia.
Hansen continues his journey of making the world more accessible and inclusive with the announcement of the Rick Hansen 25th Anniversary Relay.
Last summer, on August 24, in Cape Spear, Newfoundland and Labrador — the easternmost point in North America and approximately 15 kilometres south-east of St. John's  — the 25th Anniversary Relay retraces the Canadian segment of the original Tour.
However, this time one man in motion will be represented and celebrated by many in motion; engaging 7,000 participants from across Canada who have made their own difference in the lives of others.
Natyshak embodies the fire in Hansen during the first world tour.
While on a routine mountain biking trek through the woods, Natyshak broke his neck at the C7 vertebrae and had to wait alone in the bush for three hours before crews responded to get him to medical care.
After the accident, Natyshak had to find a way to overcome his injury, similar to Hansen who fell out of a truck in when he was paralyzed at the age of 15 during a truck accident.
The relay will cover between 40 to 80 kilometres a day, with each participant averaging 250 metres.
The Nelson stop goes April 19-22.
Click on http://www.rickhansenrelay.com/en/relay-map.aspx for the Nelson route.