Rice uses home course knowledge to steal thunder from World's best riders at Red Bull Supernatual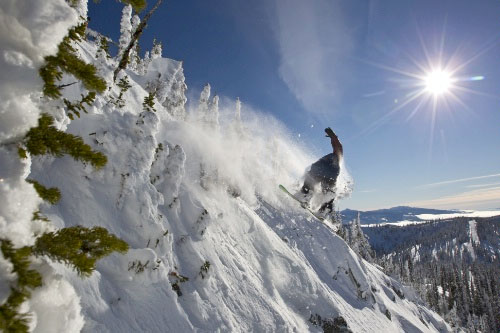 By Bruce Fuhr, The Nelson Daily
First find a location and then build a course.
For those keeping score at home the North Face at Balface Lodge near Nelson just happened to be the place of choice.
Lobby a major sponsor to bank roll the event before inviting a few friends, who just happen to some of the best boarders in the world.
After everything is in place and conditions are just right, steal the thunder by winning the competition.
Not quite what Travis Rice envisioned when he put together the Red Bull Supernatural, but he'll take it.
Under picture-perfect conditions at Balface Lodge, Rice shot down the slope nicknamed "Scary Cherry" to capture the first ever Red Bull Supernatural Saturday.
"We're walking away with a different state of mind. This was an experiment and it's the beginning of a new, possible future for snowboarding," said Rice.
"These guys ride like this all the time. It's just a really tough thing to capture, even in a video part. No breaks, riding first tracks and on all-natural terrain. Here we are able to showcase the talent in snowboarding today."
Thanks to a little home-course advantage, Rice tossed out the challenge to the rest of the competitors from the start, putting down a flawless run, hitting as many features as possible, stomping landings and adding inversions to multiple maneuvers.
Rice scored 91 to hold down top spot throughout the day.
Gigi Rüf of Austria finished second with 84 points.
Swiss rider Nicolas Müller topped American John Jackson's score of 80.6, with an 82.6 in the final run with buttery transitions and the solid, stylish riding he is known for.
But Jackson didn't walk away empty handed, he won 'Best Trick' by stomping a double cork 1080 off the big kicker on his final run.
"We had no idea that people would tee off that big without having ever seen anyone hit the features before," Tom Burt, Head Judge for Red Bull Supernatural said after the competition.
"This contest puts together where snowboarding is headed, riding the mountains. But adding freestyle riding into the mix really ups the level. Nature alone can't fully provide a course like this."
David Carrier-Porcheron was the top Canadian in eighth while fellow countryman Devun Walsh was tenth.
"Today was a great example of where our sport is going and what we can do to get it to the next level," said Jeff Pensiero, Owner of Baldface Lodge.
"I was surprised at how much these guys really stepped up their game to ride this course. I thought a lot of it was not rideable, but these guys proved that they earn their livings exceeding expectations."
Standouts of the day include Terje's fast turns punctuated by massive methods off the hip transfers, Eric Jackson's butter into a huge 540 off an upper platform and Lucas Debari's enormous air launched off a platform initially built as an evacuation heli platform. Burt said.
"Everyone had standout moments. The talent on course today was mind boggling."
Burt also points to Devun Walsh's 360 pillow platform tap on the final hit and Nicolas Müller's switch 720 off the kicker as some of the day's most notable moments.
Competitors arrived in Nelson last week for a few promotional events — including an autograph session Wednesday evening at Tribute Boardshop — before taking a helicopter to Balface Lodge Friday to prepare for the Red Bull Supernatural.
Organizers had six-day window to run the Red Bull Supernatural, but with no new snow in the forecast, judges decided to run the event Saturday.
Rice and Company had a camera crew filming the entire event.
The footage will be aired March 31 as part of NBC's Red Bull Signature series between 1-3 p.m.
The Red Bull Supernatural airs as part of a new sports programming block called the "Red Bull Signature Series" which features the most progressive snowboarding, mountain biking, freestyle motocross, skiing and BMX events
sports@thenelsondaily.com