Junior Bombers robbed of win; LVR seniors Grace and Zak go out on high note Tuesday at the Hangar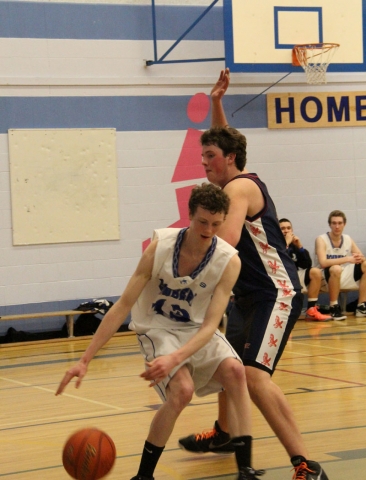 By Bruce Fuhr, The Nelson Daily
The L.V. Rogers earned a split Tuesday against their counterparts from J. Lloyd Crowe in West Kootenay High School Boy's Basketball action at the Hangar.
Or did they?
A mix up at the scorer's bench allowed the Hawks to escape with a 47-44 decision over LVR in the Junior Boy's contest — the first loss of the season for the Junior Bombers against West Kootenay opposition.
The Bombers had no trouble in the senior boys game, blasting the Hawks 113-35.
"During a crucial point in the fourth quarter, four points that the Bombers scored were missed or not counted by the score keepers on the score clock or the official score sheet," said a frustrated LVR coach Steve Montgomery.
"Efforts to correct the situation were unsuccessful."
The four lost points would have given LVR a point victory.
Montgomery also said the Crowe stats person also had a score of 44-44 after regulation time.
Playing with only seven players, including two regular starters, the Bombers kept pace with the Hawks tied 12-12 after one quarter before trailing 26-20 at the half.
The Hawks increased the margin to 38-24 after three periods before the Bombers staged a fourth-quarter comeback.
Avery Kushner was the Bomber scoring standout with 30 points including a last second three-pointer with only 30 seconds left.
Shota Ida added eight points.
"It's too bad the score keepers made an error, but that's how it goes sometimes in Jr. basketball," Montgomery lamented.
"The boys were really disappointed at the time, but we all know that our score keepers do a great job for us and it's only human to make mistakes."
Next action for the Junior Bombers is Monday when they travel to Grand Forks to play the Wolves, a team the Bombers have already beaten 76-19. 
"We'll have our full team in Grand Forks so I know we'll be competitive and the game will help us prepare for the Golden Chute Out Tournament on Feb 17/18," said Montgomery.
Bomber seniors go out in style
Senior Adam Grace made his final home game as a Bomber one to remember, tossing in 26 points to lead the LVR to the one-side victory.
Fellow senior John Zak added 16, including four three pointers, to spark the Bombers.
Matt Zukowski Cail Spencer each had 12 points while Garrett Perry had eight.
LVR put the screws to the Hawks from the opening tip, building a 25-9 lead after one quarter to win going away.
The win helped ease the wounds the Bombers experienced during the Sahali Tournament last weekend in Kamloops.
LVR finished one spot out of the basement after defeating Vernon Secondary in the battle of the winless teams.
sports@thenelsondaily.com