Nelson skip honoured at B.C. Junior Men's Curling Championships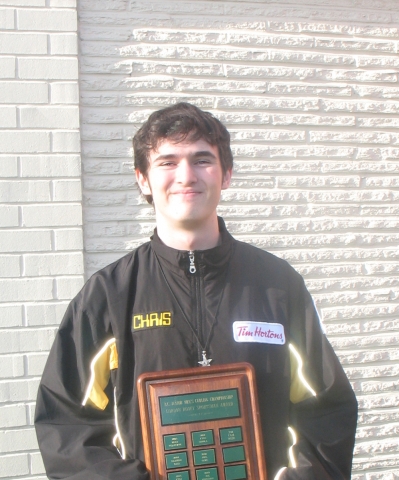 Nelson skip Chris Haynes was honoured with the Gordon Hooey Memorial Sportsmanship Award during the B.C. Junior Men's Curling Championships in Victoria.
Haynes, third Cameron Opperman, second Andrew Van Hooft and lead Alex Breen, finished out of the playoffs at the provincial championship held during the Christmas holiday season.
But the quartet, led by Haynes, was amazing ambassadors for both the West Kootenay zone and community and conducted themselves with the utmost sportsmanlike behaviour both on and off the ice.
The team's positive attitudes and behaviour did not go unnoticed and the team received compliments daily from opposing players, coaches, parents and observers.  
Josh Hozack of the host Victoria club edged Patrick McEachran of the North Shore 3-2 to capture the Junior Men's title.
Hozack finished the round robin with a 4-3 record, but got hot in the playoffs defeating Justin Nillson of Kelowna before knocking off McEachran to win the provincial crown and a trip to the Nationals in Napanee, Ontario, Feb 4-12.
Fellow competitors at the provincial meet choose the winner of the Gordon Hooey trophy.