Nelson skaters shine at Kootenay Regional Championships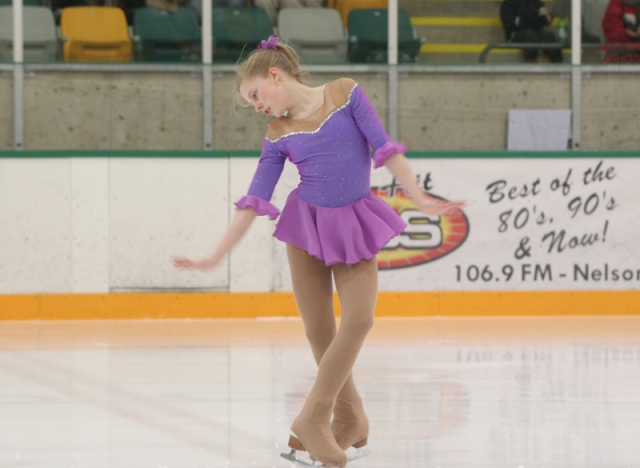 Soleil Babcock and Sophie Borhi paced the Nelson Figure Skating Club, each wining gold, during Saturday's Kootenay Regional Championships at the Johnny Bucyk in Creston.
Babcock, competing in the Pre-preliminary ladies competition, wowed the judges to take home the first-place prize.
Meanwhile, not to be outdone, Borhi took home the gold medal in the Jr. Bronze Ladies 12 and under category.
Other medalists included Tao Measures, winning silver in Pre-Preliminary Men and Sebastian Bodine-Shah, second in Preliminary Men.
Angelica Ross had a gold rating in Performance while Christina Champlin finished just out of the medals on three occasions, fourth in Pre-Novice Ladies Short Program, Pre-Novice Ladies Long Program and Pre-Novice Ladies Final Standing.
Champlin did pass both Rocker Foxtrot and Keats Foxtrot tests.
Babcock finished fifth in Pre-Introductory Interpretive Group A while Borhi also took fifth in Pre-Introductory Interpretive Group B.
Naomi Perkins finished eighth in Jr. Bronze Ladies 13 and over.
Nelson was scheduled to have nine skaters in Creston but inclement weather forced two skaters to withdraw from the championships.
Next up on the schedule for the Nelson skaters is the Rocky Mountain Freeskate Competition in Cranbrook Feb 24-26.
sports@thenelsondaily.com