Leaf rally twice but Fordy sends fans home disappointed after Princeton nips Nelson 5-4 in overtime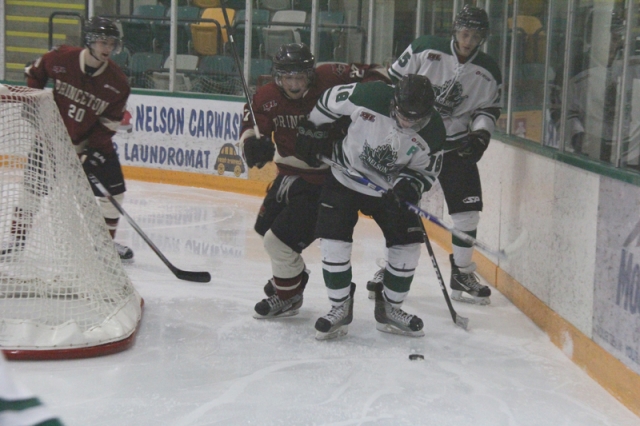 Keenan Fordy scored at the 3:16 mark of the second overtime period lifting Princeton Posse to a 5-4 Kootenay International Junior Hockey League win over the Nelson Leafs Friday at the NDCC Arena.
The win allowed the Posse to sweep the season series 2-0.
Twice Nelson rallied from deficits, including a 4-3 deficit with Nick Newman scoring in the final seconds of the third period to force overtime.
Devon Grossler, Alex Demchuk, Jaden Jazen and Brendan Colter also scored for the Posse.
Walker Sidoni, Colton Mamlsten and Matthew Naka replied for Nelson, which out shot the visitors 35-24.
Sky Buller was outstanding between the pipes for Princton to out duel Nelson netminder Andrew Walton.
The loss drops the Leaf to 4-5-0-1 in its last 10 games and makes the climb to the Murdoch Division title even more of a grind as Nelson trails leading Beaver Valley by 14 points.
The Leafs return to the NDCC Arena tonight to face the lowly Grand Forks Border Bruins.
The Castlegar Rebels pasted the Bruins 10-0 Friday in the Boundary City to run the Grand Forks record to 1-35.
Kody Disher and Anthony Delong each had four points and Conner Beauchamp registered the goose egg in goal to lead the Rebels, which pulled to within two points of idle Beaver Valley.
Game time at the NDCC Arena is 7 p.m.
sports@thenelsondaily.com