Bombers bounce back against Crowe after finishing fourth at the Fulton Maroons tournament in Vernon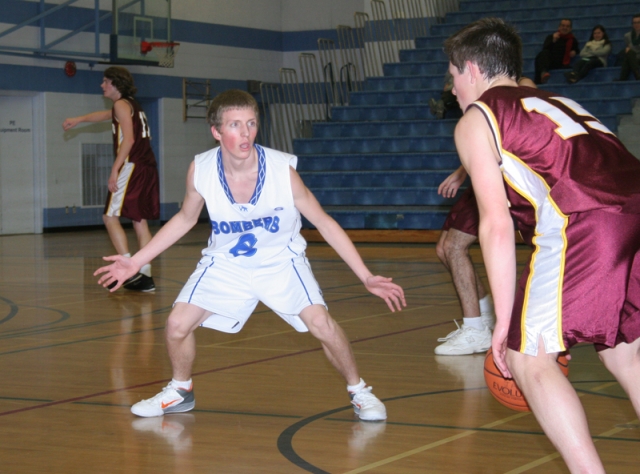 By Bruce Fuhr
The Nelson Daily Sports
The L.V. Rogers Bombers had a bounce back game Tuesday night at the Crowe, clipping the Hawks 78-35 in West Kootenay High School Boy's Basketball League action in Trail.
The victory helped heal the wounds of a pair of losses at the Fulton Maroons Tournament Saturday in Vernon.
LVR finished fourth in Vernon.
"I thought we played pretty well in Vernon," said Bomber head coach Ross Naka.
"I thought we had a good game against (Kamloops) Sahali but we had too many other things going on."
Against West Kootenay competition the Bombers are head and shoulders above the teams, dominating the local opposition.
Tuesday was no different.
LVR led 24-4 after one quarter and won going away.
Grade 11 guard Jack Startup led the Bomber charge with 15 points.
Adam Grace, named the Bomber MVP in Vernon, had 12 while Matt Zukowski and Garrett Perry had 11 and 10 points, respectively.
The Bombers played the game with a hobbled senior guard John Zak, who hurt his ankle during the preliminary round.
The loss of Zak probably contributed to LVR dropping its final two games — 56-43 to Fulton and 78-63 to Sahali.
The high-scoring guard was hurt during the Bombers 65-61 win over Princess Margaret of Penticton.
Zak, who played the final two games, left the game during the contest, but was forced to return when the Bombers ran into foul trouble.
LVR opened the tournament blasting College Heights of Prince George 56-42.
The three-headed guard team of Zak, Perry and Zukowski led the way for LVR.
The Bombers outlasted Maggie in game two of the round robin before losing to Fulton in the final game of the preliminary round, which proved to be the semi final because the Maroons advanced to the final with the win.
Perry led the Bombers in scoring against Fulton, dropping nine points while Zukowski had eight and Sturrup seven.
Against Sahali, Zukowski led the Bombers with 19 points while Sturrup had 10 and Adam Grace nine.
LVR is idle until the Bombers travel to Creston next weekend to participate in the Prince Charles Comets Classic.
sports@thenelsondaily.com