The Backyardigans gang make stop at Capitol Theatre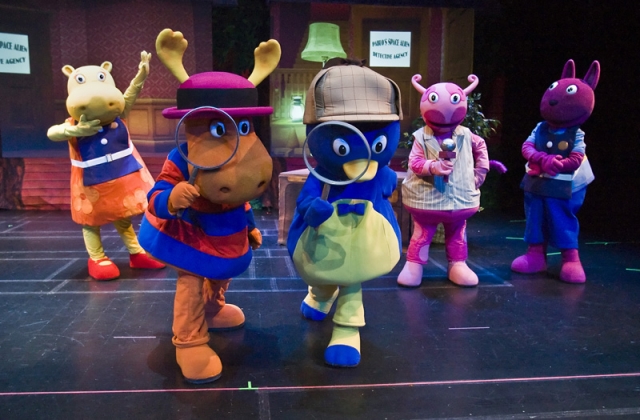 The adventure continues!
Koba Entertainment's smash hit Quest for the Extra Ordinary Aliens is an out-of-this-world theatrical production that will lead families on a heroic quest through the whimsical escapades of The Backyardigans, which is coming to Nelson Tuesday, January 31 at the Capitol Theatre.
Tickets for the shows, at 3:30 p.m and 6:30 p.m., are $25.50.
The Backyardigans gang – Pablo the penguin, Tyrone the moose, Uniqua the purple-spotted creature, Tasha the hippo, and Austin the kangaroo – are five high-spirited preschool friends whose zany imaginations are whisking them on yet another epic adventure.
Quest for the Extra Ordinary Aliens takes the audience on a non-stop musical expedition as The Backyardigans become Daring Detectives, Cookie Security Guards and Space Ace Reporters who travel in hot pursuit of a mysterious space ship and its missing passengers – the cookie-crumbing Aliens.
Tag along with the gang and their extraordinary host as they travel to shivering Frozen Toes Mountain, the blistering Hot Footsy Desert, and the volcanic Lost Pirate Island – singing and dancing the whole way.
The Backyardigans – Quest for the Extra Ordinary Aliens is a finger-snapping, toe-tapping, mind-boggling adventure that will have the whole family dancing on the edge of their seats.
About The Backyardigans Live!
Produced by Koba Entertainment, Quest for the Extra Ordinary Aliens is among the company's roster of other memorable theatrical productions including Max & Ruby: Bunny Party and Toopy and Binoo and the Marshmallow Moon.
Set to 21 eclectic songs by The Backyardigans' TV series composer Evan Lurie, this engaging musical brings together Koba's artistic director Patti Caplette for direction and Broadway-style choreography and Beth Kates for scenic and state-of-the-art 3D video design.
The theatrical production is based on the top rated preschool television program The Backyardigans, airing on Treehouse TV in Canada and Nick Jr. in the US.