Christmas comes early for Maida; big Murdoch weekend for Leafs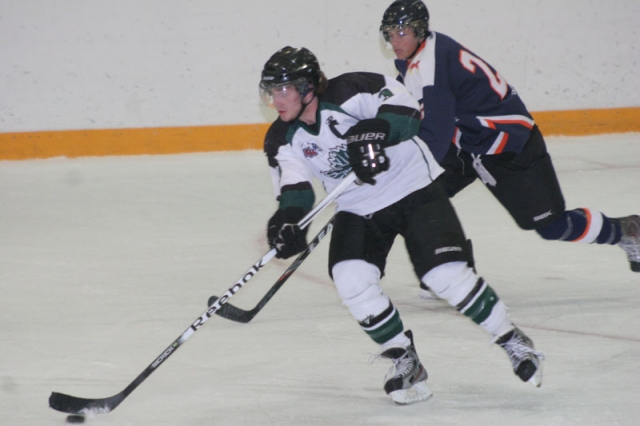 By Bruce Fuhr
The Nelson Daily

Leaf coach Frank Maida woke up this week realizing Christmas had arrived early.
The Nelson skipper found out via the junior hockey grapevine that former Leaf netminder Marcus Beasley was on the market once again having been released from the Prince George Spruce Kings of the B.C. Hockey League.
Nelson held the Kootenay International Junior B Hockey League rights to Beasley after he was release from Prince George.
Already satisfied with the goaltending duo of Andrew Walton and Patrick Defoe, Maida did the next best things — traded the junior B rights of Beasley for cash or future considerations to the Kamloops Storm.
"We were really quite happy with our goalie situation," Maida told The Nelson Daily on the eve of a heavy-dose of Murdoch Division competition.
"It's late in the season and we wanted to find Marcus a place to play. We made a call and Kamloops needed a goalie."
The deal is for cash or a player, should the Leafs want anyone the Storm is interested in moving to the Heritage City.
"We're always looking for another player heading down the stretch and into the playoffs," Maida said.
Maida may be more eager to deal should the Leafs falter this weekend.
Nelson hosts league-leading Beaver Valley Nitehawks in the first of a home-and-home weekend series Friday at 7 p.m. in the NDCC Arena.
Sandwiched in between the two Hawk games — game two is Sunday at 1 p.m. in Fruitvale — is a tilt Saturday in Castlegar against the Rebels.
"I don't feel this is a make a break weekend, but it is a big weekend to position ourselves where I feel we belong at the top of the division with Beaver Valley and Castlegar," Maida explained.
After suffering through the past six weeks of the season plagued by injuries, the Leafs have only two players on the self heading into the weekend — defencemen Tyler Parfeniuk and Blake Arcuri.
Maida said Parfeniuk, the Leaf captain, would be held out of the lineup until the New Year's Eve game against Spokane Braves.
The word on Arcuri is less than promising as the Nelson native continues to rehab a hand injury.
Nelson enters the three-game set trailing Beaver Valley by 10 points and Castlegar by five. The Hawks have played on less game than the Leaf while Nelson has a game in hand on the Rebels.
The Leafs hold the lead in the season series against the Rebels 2-1 but trail the Hawks 3-1.
Two of the games Nelson lost to Beaver Valley the Leafs held a lead only to see the Hawks charge back and take the win.

sports@thenelsondaily.com