Bombers can't seal the deal after strong start at Ok-kan-aqen tourney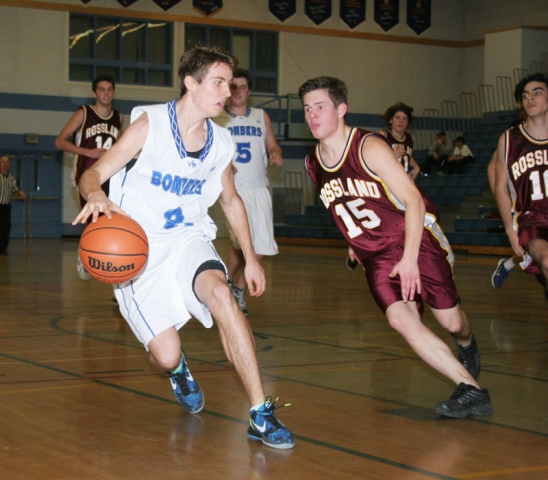 After knocking off the defending AA Boy's champs, the L.V. Rogers Bombers slipped a couple of notches on the basketball season building program.

The Bombers dropped two straight — the final a 54-36 loss to Mt Boucherie of Kelowna — to finish in the middle of the pack at the 51st annual Ok-kan-aqen Invitational Boy's Basketball tournament Saturday in Osoyoos.
The tournament is hosted by the South Okanagan Hornets but was moved to Osoyoos after fire destroyed the Oliver-based high school earlier this year.
The Bombers entered the eight-team tourney on a high after blasting Rossland Royals 87-18 in a West Kootenay High School game earlier in the week.
LVR kept on rolling against the defending AA champion from South Okanagan in the tourney opener in front of the Oliver student body.
Senior shooting guard John Zak sank a three-pointer in the final minute of the game to spark the Bombers to a 71-67 victory.
The Hornets, starting the season ranked ninth in the recent AA poll, opened the game much like the squad finished the 2011 season in Kamloops, sinking seven three-pointers in the first quarter.
But the Bombers, 2-2 on the season, stuck around against the home side as Matt Zukowski and senior Adam Grace each scored 16 points.
Zak, finishing with 14 points, then dropped a three to put the Bombers ahead for good.
However, LVR could not sustain the momentum against Similkameen Sparks of Keremeos in championship round action, falling to 64-59 to the third-ranked A school.
The Bomber coaching staff was not pleased with the result feeling LVR played down to the Sparks level.
The Bombers finished the tournament losing to the AAA Bears in the bronze-medal contest.
LVR returns to action this week in Penticton at the Pen-Hi Classic.

sports@thenelsondaily.com