Bantam Reps blasts Revelstoke to finish third at Nelson Minor Hockey Rep Tournament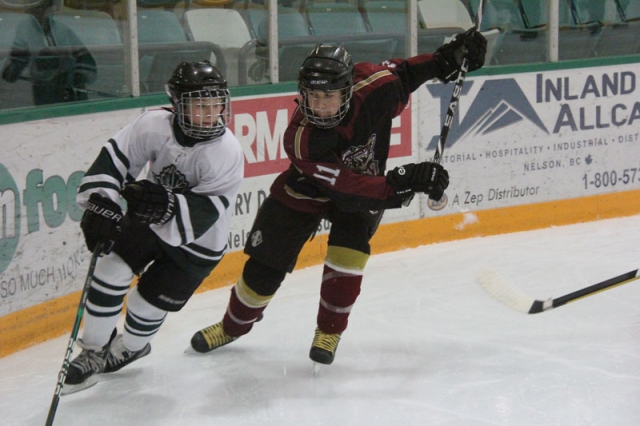 The  Bantam Leafs were a little upset the team failed to qualify for the gold medal game during the annual Nelson Minor Hockey Bantam Rep tournament at the NDCC Arena.
So the Leafs took it out on Revelstoke.
Justin Podgorenko and Amit Bhabra each scored twice as Nelson blasted Revelstoke 7-1 in the bronze medal game Sunday.
Matthew Brind'Amour, Sawyer Hunt and Micah May added singles as the host club scored early and often.
Greg Markholm was in goal to register the win for Nelson.
Nelson finished the preliminary round with a 2-0-1 record. Despite not playing Elk Valley, the East Kootenay squad finished ahead of the Leafs in the pool with three wins, advancing to the final against Creston.
Elk Valley had no trouble capturing the championship, bouncing Creston 6-2.
Nelson opened the tourney with a 4-0 shutout of Revelstoke. Nolan Percival, May, Bhabra and Brind'Amour scored for the winners.
Jesse Beauvais earned the shutout for Nelson.
The Reps then needed a late goal by Hunt to grab a 3-3 tie against Creston.
Jacob Shukin and Percival also scored for Nelson in support of goalie Markholm.
In the final game of a three-game Saturday, Nelson dumped Salmon Arm Silverbacks 4-1.
Percival, Jayden Maida and Shukin, with a pair, scored for the Reps.
Nelson travels to Westside near Kelowna for a tournament.
The Reps face Kelowna, Nanaimo and Merritt in the preliminary round.
REP NOTES: The Bantams were missing Nolan Renwick and Keaton Roch for the weekend due to injury. The coaching staff also saw star center Nolan Percival missed the playoff match due to injury.
sports@thenelsondaily.com