UPDATE: Team B.C. plays for fifth after dropping 2-1 loss to Manitoba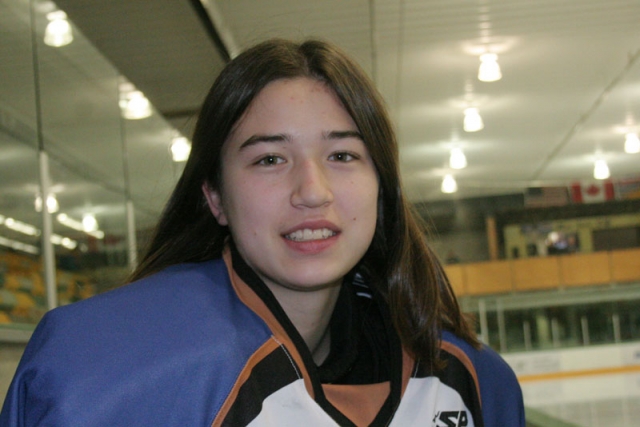 Team B.C. lost out in its bid to play in the medal round after Manitoba scored a 2-1 win during the final round robin game in Group A for both teams Friday at the National Women's Under-18 Championship in Saguenay, Que.
Team Manitoba scored two early goals, then held off a late charge by Team B.C. to post the victory. Manitoba has lost two previous games to Alberta and Ontario Red while B.C. was 1-1 entering the game.
Team B.C. now plays for fifth spot Saturday against Ontario Blue.
Playing for Team B.C. is Nelson's Aimee DiBella, Kootenay Ice netminder Kimberley Newell, from Burnaby, and Cranbrook's Daley Oddy.
Game time is 10 a.m. PDT.
In earlier coverage:
No miracles for Team B.C. against Ontario Red, lose 4-1
Team B.C. could not duplicate the result from opening day against Ontario Red
Ontario Red scored three second-period goals en route to a 4-1 win over Team B.C. in Group A action Thursday.
Kristyn Capizzano, Victoria Pittens and Sarah Nurse scored during the first 12 minutes of the frame to give Ontario Red all the goals it would need on Team B.C. and Kootenay Ice netminder, Kimberley Newell.
Victoria Pittens had give the defending gold medal winners a 1-0 lead after 20 minutes.
Stephanie Schaupmeyer (Kelowna) scored the only goal for Team B.C. during a 5-on-3 in the third period.
Team B.C. opened the tournament by shocking Alberta 2-1 behind a goal by Cranbrook Daley Oddy.
The other local face on Team B.C. is Nelson native Aimee DiBella. The shutdown rearguard was held off the score sheet.
Team B.C. returns to action Friday at 7 a.m. PDT against Manitoba.
The top two teams in each of the two groups advances to the playoff round Saturday with the two semi final winners meeting for the gold medal Sunday.
Catch all the action live at www.hockeycanada.fasthockey.com