Not much in the way of fireworks, but a few jabs during final all-candidates forum Wednesday at Central School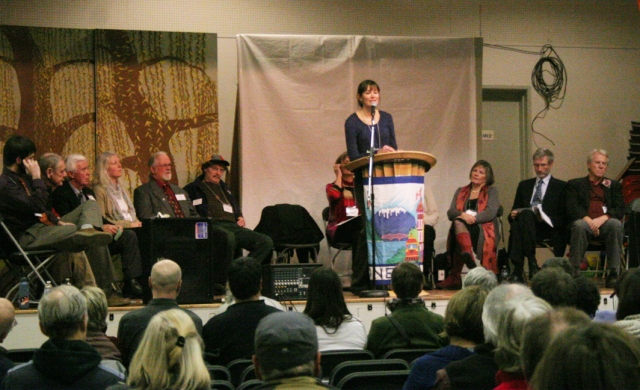 Fireworks?
More like a good, old fashion love in.
Not much in the way of battles or choice words between candidates at the final forum before Saturday's municipal elections — other than John Dooley jabbing counterpart Richard Rowberry over being subjected to dial-up internet.
The all-candidates forum, sponsored by the Canadian Federation of University Women, the Nelson Star, the Nelson Teachers Association and School District No. 8., was held Wednesday at the former Central School gymnasium.
More than 150 people braved the first serious snow storm of the season to hear candidates for school board, Nelson city council and mayor candidates John Dooley and Richard Rowberry.
After each candidate was allowed a three-minutes speech to sell themselves to voters, a brief question-and-answer session followed.
Voting day is Saturday for municipal, school districts and regional districts.
Registered voters in the City of Nelson may cast their ballots from 8 a.m. to 8 p.m. at Central School located at 811 Stanley Street.
At the voting place names and addresses will be checked against the list of electors.
Voters who have not previously registered, will be asked to do so.
Before receiving a ballot to vote, all persons must sign a declaration that they are eligible to vote and have not voted before in this election.
For more information on eligibility see:
http://www.cscd.gov.bc.ca/lgd/library/election2011/Voters_Guide.pdf
Regional District Elections
Regional District elections are also held on Saturday, November 19 from 8 a.m. to 8 p.m.ballots can be cast a various locations in Area elections.
Check the RDCK link to find the polling station in your Area.
http://www.rdck.bc.ca/publicinfo/notices.html?action=display&id=387