Leafs score in bunches to get past Penticton Lakers 4-1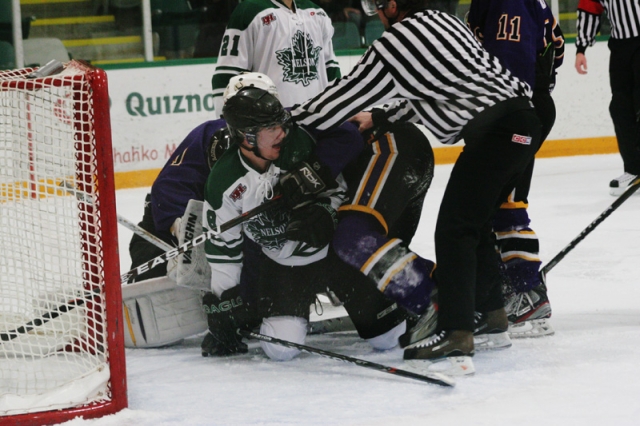 A scoring explosion went a long way in powering the Nelson Leafs to a 4-1 decision over the Penticton Lakers in Kootenay International Junior Hockey League action Saturday at the NDCC Arena.
The win allowed the Leafs to sweep the season series against the Lakers — Nelson defeated Penticton 4-0 earlier this season in the South Okanagan City.
"Getting the big lead definitely helped," said forward turned defenceman turned forward, Cameron Dobransky.
"Wally (goalie Andrew Walton) played great and our scorers did what they had to do for us to win."
After starting slow, the Leafs took it to a Lakers team playing its second game in as many nights, building a 3-0 advantage early in the second period on goals by Carsen Willans, game captain Jonathan Petrash and Colton Schell.
Evan Anderson beat Leaf goalie Andrew Walton on the power play two minutes after Schell scored to cut the lead to 3-1.
The score remained the same until Colton Schell scored an insurance marker.
Nelson now has won two straight and has recorded seven out of a possible eight points in its last four games following a five-game losing streak.
"We kind of lost our way," said Dobransky about the recent losing streak. "Since we got back to our systems everything started flowing again . . . we're having fun on the bench, we're having fun on the ice."
Nelson, third in the Murdoch with a 15-8-0-2 record, climbs to within six points of the division leading Beaver Valley Nitehawks.
The two Murdoch rivals meet Sunday in Fruitvale at 6 p.m.
Beaver Valley holds a 2-1 advantage in the season series.
"It's going to be a very big test for us," Dobransky explained when asked about Sunday's tilt.
"We've got to go in there and steal two points. We haven't won in their arena yet. (Beaver Valley) has four points on us now with a couple of games in hand so we need to winning against them."
GAME NOTES: The Leafs welcomed two defencemen back to the lineup — Riley Henderson and Julian Davis. . . .The news is not as good for two other defencemen, Tyler Parfeniuk and Blake Arcuri, both expected to be out of the lineup until Christmas. . . . Also not playing this weekend are forwards Colton Malmsten, Max Mois and Dustin Reimer. The latter is lost for the season. . . .Nelson's new scoring leader Brett Norman missed the final part of the third period after getting involved in a fight. . . .Nelson goalie Andrew Walton won for the seventh time this season. . . .Former Nelson Minor Hockey star Adam Plant was in the lineup Saturday for Penticton.
sports@thenelsondaily.com