Leafs end skid with 4-3 win over defending KIJHL champion Osoyoos Coyotes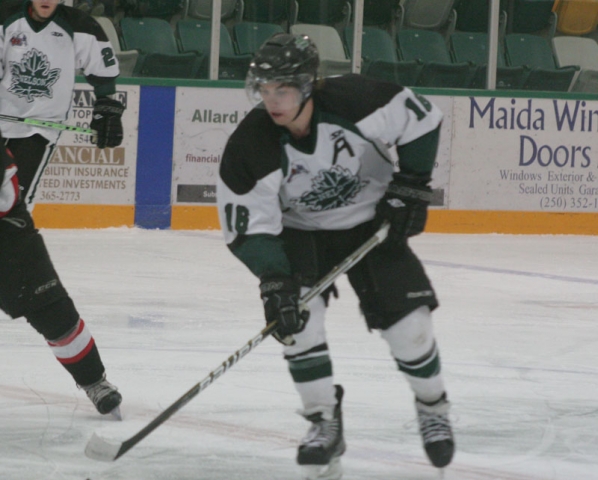 The winless streak is over for the Nelson Leafs.
Patrick Martens scored with six minutes remaining to snap a 3-3-tie and power the Leafs to a 4-3 Kootenay International Junior Hockey League victory over the Osoyoos Coyotes Sunday in the South Okanagan City.
The win ended a five-game losing streak for the Heritage City franchise.
Nelson held period leads of 2-1 and 3-2 before Kam Crawford scored on the power play midway through the third period to tie the game.
However, Martens beat Jordan Gluck for the winning tally late in the third period.
Nelson opened the three-game Okanagan road trip with losses in Princeton to the Posse 4-2 and in Kelowna, a 6-3 setback to the Chiefs.
Matti Jmaeff, with his second goal in as many games, Brett Norman and Max Mois also scored for the Leafs, which out shot the Coyotes 42-34.
Andrew Walton has a bounce-back game to register the win in goal.
The Leafs, 13-8-0-1, maintained a slim one-point advantage over the third-place Castlegar Rebels in Murdoch Division standings.
Beaver Valley leads the Murdoch by a single point over Nelson.
Both Beaver Valley and Castlegar have played three fewer games than the Leafs.
elson concludes a six-game set away from the NDCC Arena Thursday in Fernie against the 14-4-0-1 Ghostriders.
The Leafs return home Saturday to host the Grand Forks Border Bruins Saturday at 7 p.m. in the NDCC Arena.
ICE CHIPS: The Leafs made it two straight over the defending KIJHL champions. Nelson posted a 5-3 win over Osoyoos in early October. . . .Nelson, down to 14 players, was missing captain Tyler Parfeniuk.
sports@thenelsondaily.com