Kaslo/Nelson Reps settle for silver at Westbank tourney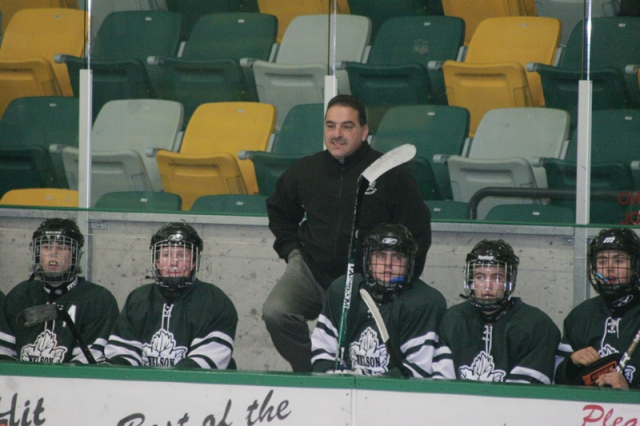 Tri-City exploded for four second period goals to rout Kaslo/Nelson 7-2 in the final of the Westbank Midget Rep Minor Hockey Tournament Sunday in the Central Okanagan City.
Kaslo/Nelson was right in the mix, trailing 3-2 after 20 minutes. But a second-period meltdown cost the Reps as Tri-City jumped all over the Kootenay squad.
Matt MacDonald and John Katountas scored first-period goals for Kaslo/Nelson.
Brayden Pompu took the loss in goal for Kaslo/Nelson.
Kaslo/Nelson finished the round robin with a record of 1-1-1.
The squad opened with an 8-3 loss to West Kootenay rival Castlegar.
Grant Matthews scored three times to spark Castlegar to the win. Matthews scored in each of the periods, including a five-goal third as the Sunflower City squad pulled away from Kaslo/Nelson.
Ryan Giesler added a pair while Trevor Rigby, Lucas Zaytsoff and Ryan Keraiff added singles.
Castlegar led 1-0 after a period before Kaslo/Nelson struck for three goals to tie the game at 3-3 after 40 minutes.
Dylan Whiffen, John Katountas, Zeke Grimshaw, Coleton Dawson and Michael Viala replied for Kaslo/Nelson.
Kaslo/Nelson rebounded during game two, edging Smithers 4-3 behind the two-goal performance of Katountas.
Ross Jacobs scored the winner in the third for Kaslo/Nelson. Sam Weber had the other goal for the winners.
Kaslo/Nelson then tied Tri-Cities in the first meeting between the two eventual finalists.
Liam Butterfield, Dawson and Wiffen scored for Kaslo/Nelson.
In the playoff round, Kaslo/Nelson got a goal from Ross Jacobs in the second and an insurance marker from Tyler Podgorenko to nip South Delta 4-2 in semi final action.
Katountas and MacDonald also scored for the winners.
sports@thenelsondaily.com