Former LVR grad part of Heat bronze medal at Pac West Men's Soccer Tournament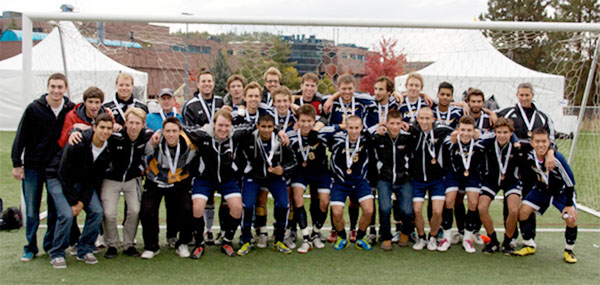 Former L.V. Rogers Bomber soccer star Dylan Zaitsoff is all smiles after UBC Okanagan Heat edged UNBC Timberwolves 3-2 in the bronze medal final of the Pacific West Men's Soccer Championship Sunday in Kelowna.
The 5'11" Zaitsoff is a defender on the UBC O men's side.
This is the first provincial medal in men's soccer since the school rejoined the league in 1992.
The Heat improved from 2-9-1 in the previous season to provincial medalists in Dante Zanatta's first year as head coach.
UBC O jumped to a 3-0 lead before the Wolves came storming back to make the game close.
The Heat lost to Vancouver Island Mariners in the semi final 3-0 to drop into the bronze medal match.
UBC O opened the tournament by defeating Kwantlen Eagles 1-0 on penalty kicks.
Joining Zaitsoff on the Heat is Manny Straith of Victoria. Straith is the son of former Mount Sentinel High School athlete Delphine (Zarikoff) Straith.
Zarikoff, the daughter of Helen and John Zarikoff, was one of the best athletes to ever come out of the South Slocan school.
Manny Straith's brother, Adam, is a member of the Canadian National Men's Soccer Team.
Heat women settle for silver
For the second consecutive year the UBC Okanagan Heat won a medal at the Pac West Women's Soccer Championships — unfortunately it was the wrong colour.
The Heat lost 2-1 to Thompson Rivers Wolfpack in extra time during the women's final, settling for the silver medal.
Alana Bekkering scored at the ninth minute of extra time to give TRU the title.
sports@thenelsondaily.com