No luck Selects finish in middle of pack at B.C. Soccer Provincial B Cup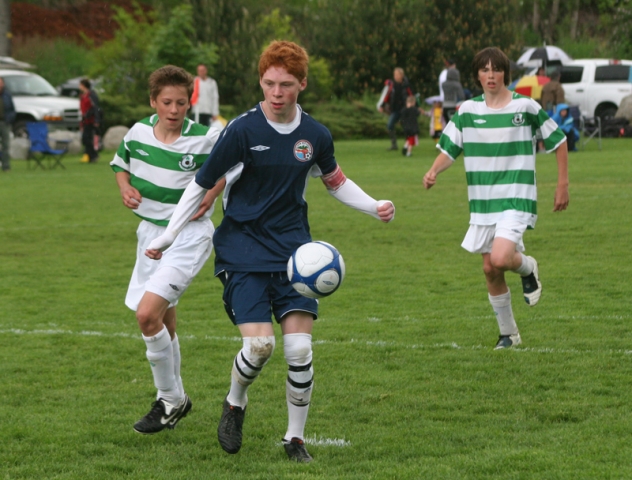 By The Nelson Daily Sports
Making its first trip to the provincial tournament proved not to be a disappointment for the Nelson U13 Selects.
The squad came ever so close to playing for bronze, instead settling for fifth spot at the B.C. Soccer Provincial B U13 Girl's Cup in Powell River.
Nelson Youth Soccer did manage to win a pair of silver medals at Provincial B Cup Tournament play as the U13 and U18 Boy's each lost in the final.
In Powell River, the Selects finished the four-day tourney with a record of 2-1-1.
The Selects fought hard throughout the tournament and the coaches are extremely pleased with the team's overall performance this season," said co-coach Pat Perkins.
Nelson finished the eight-team tourney on a positive note by stopping Squamish Fireballs 2-0.
Naomi Perkins scored both goals for Nelson, the second marker a howitzer from just outside the 18-yard box.
Nelson opened with a 3-0 loss to Kamloops Blaze.
Perkins said failed to take advantage of some early chances to score.
The next day Nelson was able to bounce back, edging Comox Valley Fury 2-1. Darian Voisard scored both goals for Nelson.
Nelson then played West Van Lightning, with a win advancing the Kootenay Reps to the bronze medal final. The game finished 1-1.
Trailing 1-0, Nelson tied the contest when Naomi Perkins struck free kick to even the match at a goal.
However, West Van had a better goal differential and advanced to the medal contest.

U17 Selects struggle in Penticton
The Nelson Selects played well, but couldn't get into the win column at the B.C. Soccer Provincial B U17 Girl's Cup in Penticton.
The Selects lost round robin games to Surrey United Force 6-1 and host Pinnacles 2-0 to drop into the consolation side of the draw.
The contest against Penticton was in a scoreless deadlock with 10 minutes remaining before the host squad potted a pair of late goals.
During its final game, the Reps dropped a heartbreaking 2-1 decision to Williams Lake.
"Tough tourney for our girls . . . they had high hopes," said co-coach Cam Paterson. "Regardless of score sheet out comes, it was a very successful weekend with many (lessons) learned from players to coaches and the team."
U15s fail to take advantage of great start
After opening with great 2-1 win over Prince George, the Nelson Select spiraled downward at the B.C. Soccer Provincial B U15 Boy's Cup in 100 Mile House.
The squad lost three straight, including a 4-0 setback against Terrace in consolation action.
Following the day one win, Nelson lost 3-1 to Penticton at 4-2 to Victoria's Gorge.
In the latter contest the Reps were victimized by two penalty dot shots that turned the game into the favour of the Island squad.
The Reps then bowed out of the tournament with the loss to Terrace.
sports@thenelsondaily.com