MacLeod humbled, but not disappointed with freshman season in Division One Men's hockey at Boston College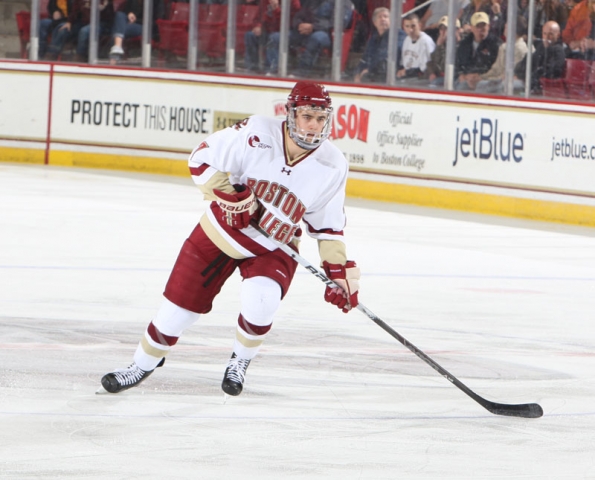 By Bruce Fuhr
The Nelson Daily Sports
Three years ago Isaac MacLeod helped the Nelson Leafs win the Kootenay International Junior Hockey League championship.
Two years ago, the son of Deb and Allan MacLeod was a key cog on the blueline of B.C. Hockey League's Penticton Vees.
Last year the Nelson Minor Hockey grad played his freshman season in NCAA Division One Men's Hockey for Boston College Eagles.
So this fall fans should be seeing the lanky 6'5", 205-pound defenceman in the NHL with the San Jose Sharks, right?
Well, even for a player with the talents of an Isaac MacLeod that may be stretching it.
"It would be great if I could but I think I'm going to stick around in college for another couple of years and develop physically and help my game mature before I take a step to professional hockey," MacLeod chuckled a little when asked about the natural progression during Canada Day festivities at Lakeside Park.
Fact is, MacLeod hit a bit of a wall at Boston College.
Recruited from the BCHL, one of the most influential Junior A Leagues in North America for college scouts, MacLeod saw his name appear beside the "healthy scratch" category more than a few times.
However, MacLeod did not even flinch when asked if he should have remained with Penticton for another season of grooming before making the college hockey jump.
"I'm very happy I went," MacLeod exclaimed. "I developed a lot."
"(I have to admit) I didn't get to play as much as I would have liked but I was able to practice against some of the best players in college," added the 19-year-old MacLeod, whose older brother Alex also plays Division One Men's Hockey with Michigan Tech.
Not to be out done in this family of successful children, sister Rebecca is a violinist studying music at Carnegie Mellon.
"There's a number of players on our team that played at the World Juniors . . . one (Eagles' forward Chris Kreider) played for Team USA at the World Championships," said MacLeod.
"The caliber of play, not only in practice but in games, was so high that I improved so much during the year."
MacLeod's freshman stats won't snap the neck of NHL scouts just yet: three assists in 22 games. But we all know the step from BCHL to Division One men's hockey is not like jumping from minor hockey to junior B.
Those Division One boys are men, scatching and clawing their way to a spot in the big time.
And Boston College, coming off the national title in 2010, is a power among powers in the NCAA. So waltzing in to a regular spot on a team blessed with talent would not be easy for anyone.
"The big thing for me to work on is my physical strength," admitted MacLeod.
"I have the frame, I just need to put on weight. But I also need to improve my footwork and my shot and my confidence level. If I put all those things together everything should work out for me."
In June of 2010 MacLeod was drafted in the fifth round of the NHL draft — 136th overall — by the San Jose Sharks.
This year's Western Conference finalist in turn invited MacLeod to its prospects' camp. Is MacLeod once again headed for California to skate with the big team?
"I was just in touch with (San Jose) and what they do with the college athletes is they bring them in the first year to show them the ropes and show them the organization and what it's all about," MacLeod explained.
"The second year in college, unless they think they're going to play for the team, they don't invite them back until their junior or senior year.
"I won't be going this year but, hopefully, I'll get to go back next year."
Boston College did not repeat as NCAA Champions in 2011.
 The Eagles, 30-8-1 during the season and 20-6-1 in league play to finish first in their league, lost in the NCAA tournament to Colorado College after capturing the Hockey East title with a 5-3 win over Merrimack.
To be ready for his sophomore season, Isaac MacLeod spent the past two months training at Boston College instead of immediately returning back to his Heritage City roots.
As soon as the ice is back in his old stomping grounds, the NDCC Arena, the Carroll School of Management student will add ice training into his Boston College off-season training program.
However, before MacLeod can get back on the ice he'll do his best to work on the hand-eye coordination playing weekly ball hockey against the men — because a player has no hope of cracking the world of professional hockey before they first overcome the rigors of Tuesday Night Ball Hockey.
And Isaac MacLeod is no different.
"Every Tuesday night with Lenny Maida," MacLeod laughs. "It's awesome."

sports@thenelsondaily.com