Water levels rise in West Kootenay region as high flow advisory continues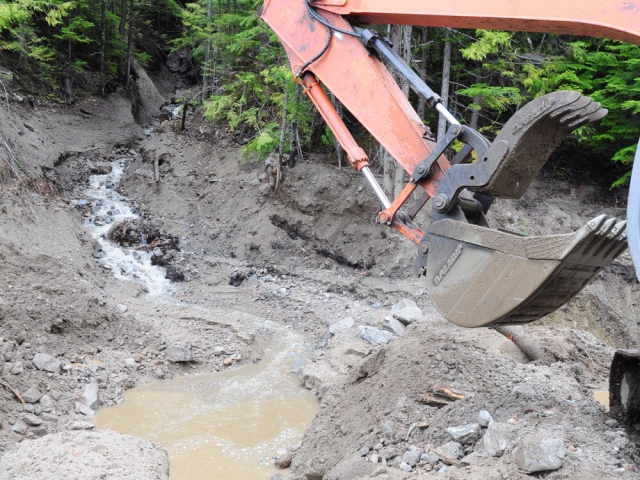 A high stream flow advisory is still in place after heavy rains drenched the southern West Kootenay over the last two days, according to the BC River Forecast Centre.
Warm temperatures — associated with a weak ridge of high pressure over southern BC — and two days of rain mean river levels have been rising, the centre warned in a press release.
"Area automated snow pillows have reported a daily loss of snow water equivalent of 20-30 millimetres over the past three days," the report read.
Closer to home, the Kootenay Lake levels are rising, the centre reported, by about 10 centimetres per day as the snow melt continues to run down to the 110-kilometre long lake.
On Monday the rate of melt increased as daytime high temperatures of 27-29°C were reached in the valley bottoms.
Although Environment Canada said the ridge broke down by Tuesday — with daytime high temperatures dropping into the mid-20's — an upper trough brought up to a total of 20 mm of precipitation by Wednesday.
River levels will continue to rise in response to the snow melt followed by the precipitation that fell earlier this week. High stream flow is expected throughout the region, particularly for the Elk Valley.
Note
A high stream flow advisory means river levels are rising or expected to rise rapidly, but that no major flooding is expected.
Minor flooding in low-lying areas is possible. A flood watch means that river levels are rising and will approach or may exceed bank full. Flooding of areas adjacent to affected rivers may occur.
A flood warning means that river levels have exceeded bank full or will exceed bank full imminently, and that flooding of areas adjacent to the rivers affected will result.
Source: BC River Forecast Centre
twitter.com/#!/TheNelsonDaily