The Action fail to gain any ground on Innkeepers, play to 1-1 draw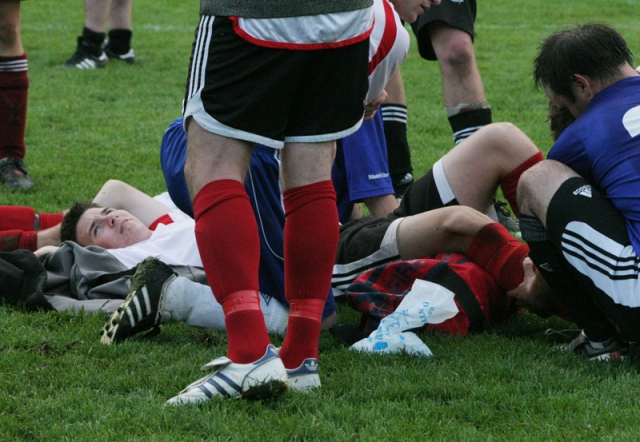 The Action failed to gain any ground on defending league champion Innkeepers as the two front runners played to a 1-1 draw in Leo's Men's Open League play Tuesday evening at Lakeside Pitch.
The Innkeeper currently sits on top of the standings with a four-point bulge over The Action.
Each team has only one loss this season.
In the other game on the night Kootenay Co-op got past cellar dwelling Kootenay F.C. 2-1.
Co-op sits in third spot in league standings, seven points behind Innkeepers.
West Kootenay and Kootenay F.C. are tied for fourth spot, each with four points.
In the lone game Friday West Kootenay United meets The Action at 6:45 p.m. at Lakeside.
The Action will be missing Byron Rokeby-Thomas for the game Friday. The speedy striker went down with a knee injury and had to be taken to hospital in an ambulance.
Tuesday Innkeepers face Kootenay F.C. and West Kootenay United meets Kootenay Co-op.
Jackson's tops Jackson's
Jackson's Hole is the lone undefeated team in the Jackson's Hole Men's Master 35-plus league.
Jackson's currently sits on top of league standings, three points ahead of 2010 winner Bia Boro.
Real Nelson is in third place followed by Club Inter.
Ted Allen's Jewelry is fifth with Red Dog alone in the basement, winless in six attempts.
In action Thursday, Red Dog meets Ted Allen's, Real Nelson attempts to knock off Jackson's Hole and Bia Boro battles Club Inter.
Dirty leads Finley's
Dirty Dozen is undefeated after five games of the Finley's Ladies Red Soccer League.
The five wins puts Dirty Dozen six points in front of second place Red Dog.
Finley Jiggers and Lily Whites are tied for third, each with six points. Selkirk Eyecare is fifth with three points.
Friday Dirty Dozen look to make it six in a row when the team meets Lily Whites at Lakeside Pitch.
Monday, Finley's Jiggers meet Dirty Dozen while Selkirk Eyecare plays Red Dog.
sports@thenelsondaily.com