Sentinel grad, Kendra Wayling, joins Heat at Nationals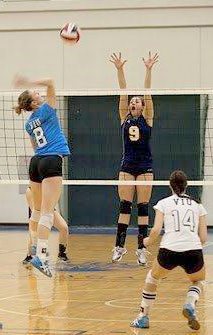 By Bruce Fuhr
The Nelson Daily Sports
Kendra Wayling once again is bound for a major tournament.
The Mount Sentinel Wildcats grad is in St. John's, New Brunswick to compete in the Canada College Athletic Association Women's Volleyball Championships.
The top-ranked Heat bent but didn't break against the longtime rival Vancouver Island University Mariners last month at UBCO gymnasium in Kelowna, winning the B.C. Championship for the third consecutive year in five sets (25-27, 25-19, 25-21, 20-25, 15-7).
The Heat advanced to the final with a straight set win (25-20, 25-17, 25-16) over University of the Fraser Valley.
Top-ranked UBCO opens the tournament Thursday at 2 p.m. PST against host St. Johns.
The other teams in the eight-team field include FX Garneau of Quebec City, Mount Allison of Sackville, NB, Humber College of Toronto, Nanaimo's Vancouver Island and Alberta reps Grand Prairie and Mount Royal College of Calgary.
Semi finals go Friday with the final set for Saturday at 3 p.m. PST.
Wayling, 21, is no stranger to the spotlight.
During her senior year at Mount Sentinel the 5'9" middle player led the Cats not only to the B.C. High School A Girl's Volleyball title, but also the B.C. High School A Girl's Basketball crown.
After graduating, Wayling, who lives in Castlegar, played a season in Idaho for Coeur d' Alene College before taking a year off to rehab an injury knee.
UBCO, entering Nationals with a 20-6 overall mark and 13-1 in BCCAA league play, heavily recruited Wayling to come to Kelowna to play this past season for the Heat.
Kendra Wayling is the sister of Katie Wayling who attends Palm Beach State College, located 60 miles north of Miami in Lake Worth, Florida.
sports@thenelsondaily.com