Sookro breaks out of scoring slump to lead Hawks to 6-3 win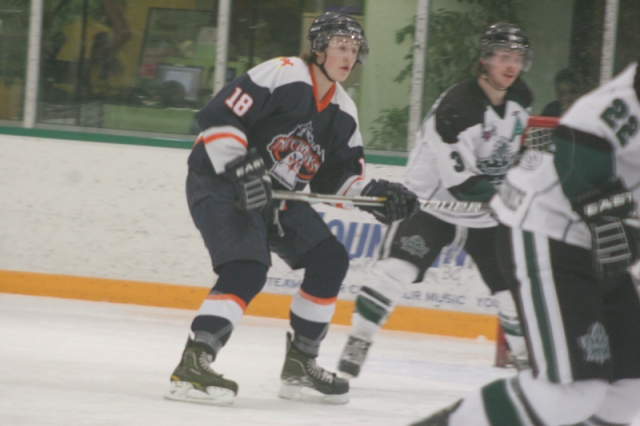 By Bruce Fuhr
The Nelson Daily Sports
The Beaver Valley Nitehawks exploded for four first-period goals to double the Nelson Leafs 6-3 in Kootenay International Junior Hockey League playoff action Monday night in Fruitvale.
The Hawks now lead the best-of-seven Murdoch Division semi final 3-2 with game six set for Tuesday at the NDCC Arena in Nelson. Game time is 7 p.m.
 
After being called out by head coach Terry Jones, the top line of Ryon Sookro, Chris Derochie and Colton Donselaar came to play as the trio combined for 10 points.
"Our top line is a minus-four in the series which is not good enough," said Jones following game four's 9-1 collapse in Nelson.
 
Sookro, who has been invisible for most of the series, especially the two games in Nelson, led the charge with three goals, including two in the four-goal first period.
The pair by Sookro, combined with single from Arie Postmus and Daniel Bishop, allowed the Hawks to grab a 4-1 lead.
Colton Malmsten and Gavin Currie with a shorthanded tally, his second in two games, gave Nelson some life as the Leafs cut the margin to 4-3.
But Sookro, who played his entire minor hockey in Nelson, scored on the power play and Donselaar added a single late in the frame to restore the three-goal advantage for the Hawks.
Nelson tried to get back into the game with a strong third period, out shooting Beaver Valley 15-8. But Michael Vlanich, pulled during game four, rebounded to shutout the Leafs.
"Mike's been our rock all year long," said Jones. "He's been the reason why we finished where we did (in the standings)."
Marcus Dahl scored the other goal for Nelson.
The third-period surge allowed Nelson to out shoot the Hawks 36-33.
BLUELINES: The Hawks rebounded on the power play scoring three times. . . .Beaver Valley center Dallas Calvin, who at one time was tied for the playoff lead in scoring, had a point and now sits tied for sixth in the post-season race. . . .Connor Enright tried to shift the momentum back to the Leafs with a third-period tilt against Jean-William Caron. . . .Joel Stewart was once again not in the lineup for Nelson as Leaf coach Chris Shaw went with most of the same line up that won game four. . . .Patrick Martens led Nelson in scoring with two assists. . . .Colton Donselaar and Ryon Sookro each had four points to lead the Nitehawks. . . .The series winner meets the Castlegar Rebels who knocked off Spokane Braves in the other Murdoch semi final 4-1. The series is tentatively to start, according to the KIJHL website, Thursday in the Sunflower City.
sports@thenelsondaily.com